Corona emergency packages
Covid-19 arrived in Uganda
Stream of Life helps
We send emergency packages to cover basic needs –
Help us!
Dear supporters of Stream of Life!
The world seems to be holding its breath in the past few days. The world seems to be running out of steam. Here in Austria we sit unsettled and isolated in our apartments.
Worldwide, people are affected by the effects of COVID-19 in very different ways. Thankfully, here in Austria, we can rely on a functioning social system and unrestricted food supply even in times of crisis such as this.
The dramatic situation is exacerbated in Uganda
The situation was already precarious enough for many before the global health crisis and could worsen dramatically from the effects of the pandemic. A lack of basic medical care, high rates of tuberculosis sufferers and HIV-positive people, high unemployment and poor infrastructure in rural regions, create a poor starting point for a country that is already battered. President Museveni has already decided on a package of measures. The actual effects can currently only be guessed at.
Aid to Uganda – now.
Our solidarity and compassion must not stop at Europe's borders. The people of Uganda need our help and support now more than ever. For this purpose, we have put together simple emergency packages to cover the basic needs for food, hygiene articles and medical care.
Please help us not to leave the Ugandan people alone in these difficult times.
Thank you for your support!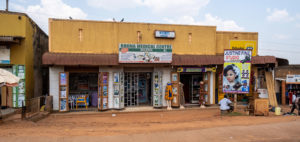 I am donating a Corona aid package for Uganda: